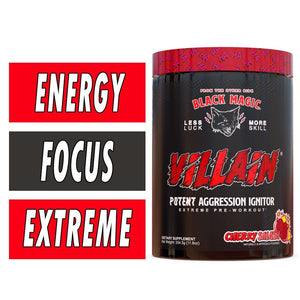 Black Magic Supply brings you our brand new high stimulant nootropic pre-workout straight from the dark side...
Experience the high stim RUSH of Villain! Villain™ is our brand new NOOTROPIC pre-workout that will have you feeling aggression the moment you walk through the gym doors..
Each handcrafted scoop of Villain™ contains HIGH POWERED ingredients that will give you the power to blast through any training session, day or night..
Tested for purity, pumps and energy. Try Villain™ today, available in WICKED flavors Frosty Blue, Bombsicle, And Mad Melon.
What's In Villain Pre Workout?
Supplement Facts / Label: