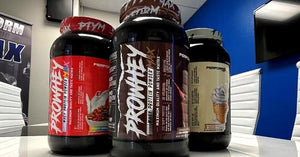 No matter what your goal is -- building muscle, burning fat, body recomposition, or top-tier performance – high quality whey protein is a must.
Protein supplies our bodies with valuable amino acids that allow it to repair, replenish and build a new following the rigors of intense training. Due to the vitality protein plays in helping athletes of all walks accomplish their goals, Performax Labs has engineered the perfect protein powder in ProWheyMax
Now, you've all seen protein powders before, but none like ProWheyMax. Instead of including a cheaper form of protein like soy, ProWheyMax includes a cross flow micro-filtrated whey protein concentrate(WPC80) and whey protein isolate(WPI90) yielding an impressive 24 grams of complete protein per scoop. 
We've also added in the full clinically backed dose of Velositol® -- a complex of amylopectin and chromium documented to double the power of protein on MPS vs protein alone. 
Finally, we've included a comprehensive matrix of digestive enzymes in DigeZyme® to help your body breakdown and assimilate the nutrients from your protein shake more efficiently, supporting faster recovery and better growth.