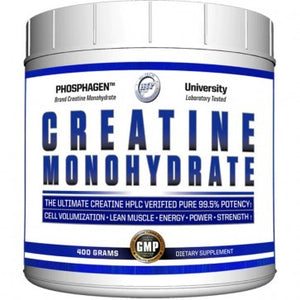 HI TECH PHARMACEUTICALS CREATINE 400 GRAMS
Creatine Monohydrate is often times people's first entrance into sport nutrition and sports performance supplements. If you are looking to improve your workout and overall athletic performance, check out Hi Tech Pharmaceuticals Creatine. Hi Tech Pharmaceuticals Creatine will help speed up muscle growth and strength gains. This supplement may help improve brain function as well. Creatine in general helps muscle cells produce more. Pick up a tub today!
HI TECH PHARMACEUTICALS CREATINEPRODUCT BENEFITS
Improves Workout & Athletic Performance
Speeds Up Muscle Growth & Strength Gains
May Help Improve Brain Function
Creatine Helps Muscle Cells Produce More
HOW DO I TAKEHI TECH PHARMACEUTICALS CREATINE?
Take one (1) scoop four times per day for 5 days. After loading phase, take one (1) scoop per day with 12-16 ounces of water.
HI TECH PHARMACEUTICALS CREATINEINGREDIENTS