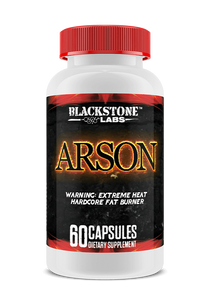 HIGH STIMULANT FAT BURNER
Increases In Energy
Appetite Suppression
Same High Powered Formula!
Fire up your metabolic inferno with Arson!
Blackstone Labs Arson is a high-potency thermogenic fat burner scientifically formulated to deliver extreme fat burning and accelerated weight loss.
The synergistic combination of stimulants, mood elevators, thermogenics, and lipolytic agents deliver an intense, long-lasting boost in energy, focus, and fat burning that will make dieting seem easier than ever.
It's time to put unsightly body fat to the fire with Arson.
Product Ingredients
Blackstone Labs' Arson fat burner uses natural ingredients like concentrated capsicum, green tea extract and black pepper extract that help you melt fat and quickly absorb the supplement. When you take Arson supplements to burn fat, you build lean muscle and enjoy longer workouts, which accelerates your bodybuilding routine.
Blackstone Labs's Arson supplements also use alkaloids and stimulants extracted from plants to boost your mood, increase energy levels and provide dopamine to put you in a good mood for the rest of the day. The ingredients in Arson fat burner offer tons of benefits, including the following:
• Capsimax - This is the key ingredient that kicks off your weight loss! Capsimax is a super concentrated form of capsicum, the spicy component of hot chili peppers. This is what raises your body temperature to start the thermogenic fat-melting process.
• Grains of Paradise - Another important ingredient, Grains of Paradise is a fat burner that boosts your metabolism to help you sweat and burn fat.
• Black pepper extract - This alkaloid improves your body's bioavailability, which is your ability to absorb medicines. It helps you absorb the other ingredients in Blackstone Labs' Arson more effectively.
• Green tea extract - Known for its wide variety of health benefits, green tea extract helps suppress your cravings and gives you an endurance boost.
• Caffeine - You know it, you love it! In this supplement, caffeine improves your energy levels and also helps to eliminate cravings for unhealthy foods.
• Theobromine Anhydrous - Extracted from the cacao bean (or chocolate plant), think of this as your back-up energy plan. When you've metabolized the caffeine in your supplement, theobromine will kick in to give you a second wind.
• 2-Aminoisopheptane - Sometimes known as DMHA, this helps with your brain/body connection to use your muscles and metabolize your energy more effectively. It's also a powerful motivator for your brain and helps you get in those extra reps!
• Eria Jarensis Extract - This powerful stimulant and mood enhancer is extracted from the Eria Jarensis plant and gives your brain an extra shot of dopamine, which is one of the hormones responsible for happiness.
• Lipolyptic Extract - A combination of alkaloids from citrus plants, the lipolytic extract is designed to help your body break down even the most stubborn fat.
Recommended Dosages

As a dietary supplement, take one (1) capsule in the morning and one (1) capsule in the afternoon. Do not exceed two (3) capsules daily.