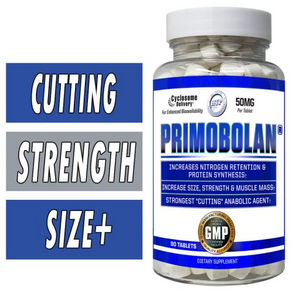 Hi-Tech Pharmaceuticals Primobolan 90 Tablets | The Strongest Cutting Anabolic Agent
Hi-Tech Pharmaceuticals Primobolan is the Ultimate Summer Cutting ProHormone bringing together ingredients from 1-Testosterone and Winstrol and packing them all into a single product. Primobolan increase nitrogen retention which in turn improves protein synthesis within muscle tissue. This allows for an increase in anabolic activity and creates the ideal environment that allows for your body to build muscle at an even faster rate than which is normally possible. Primobolan is an excellent option to help presreve lean muscle tissue even during times of heavy training and physical stress on the body. If you're looking for that cut dry look for summer Primobolan is exactly what you need. 
Hi-Tech Primobolan Highlights & Benefits
The Ultimate Cutting Summer Pro
Boosts Nitrogen Retention
Build Muscles Faster
Presreves Muscle Tissue Even During Hard Training
Increase Muscle Size, Muscle Strength, and Muscle Mass
Enhances Protein Synthesis in Muscle Tissue
Increased Anabolic Activity
Do I Need to Cycle Primobolan?
Yes, Primobolan should be run on a 30 or 60 day cycle followed by taking Hi-Tech Pharmaceuticals Arimiplex as your PCT. 
What Type of Results Can I Expect from Primobolan?
Primobolan is the ultimate lean cutting prohormone so you can expect increases in strength, vascularity, and lean muscle. Primobolan is an all new ProHormone so after some of us around the office and our customers have run a cycle we'll report back with before and after results. 
How to Take Primobolan | Primobolan Dosages
Take 1 tablet 3 times per day with or without food. Do not exceed 6 tablets per day. 
Hi-Tech Pharmaceuticals Primobolan 90 Tablets Ingredients